Newsletter – March 2023

MULTICLEAR® POLYCARBONATE MULTIWALL update
OFFERING new POSSIBILITIES!
MULTICLEAR® multiwall polycarbonate sheets offer various possibilities for building and construction
applications but also internal cladding, point of sale and advertising. Since 2005 Arla Plast invested in the
production of MULTICLEAR®, a range of high quality extruded polycarbonate multiwall sheets.
The MULTICLEAR® production facility has the latest extrusion technology purpose-built to focus on high
quality production and flexible service dedicated to the multiwall programme.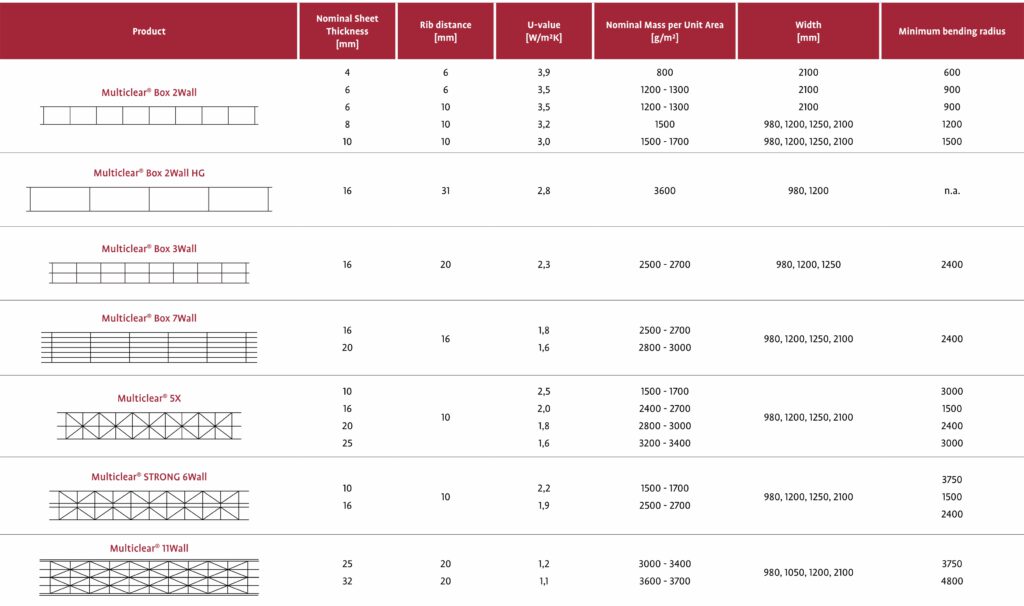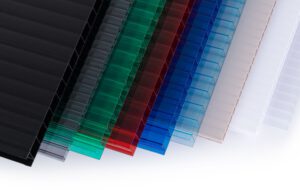 BENEFITS:
⇒ More than 10x impact strength of PMMA
⇒ Excellent light transmission
⇒ Virtually unbreakable
⇒ UV protection
⇒ Solar (heat) protection available
⇒ Good sound insulation properties
⇒ Used in flat or curved applications
⇒ 10-year limited warranty
MULTICLEAR® is available in different thicknesses and structures and standard available in clear, opal and bronze.
Our portfolio offers colours on request which includes transparent blue, green, and red colours and opaque grey and black.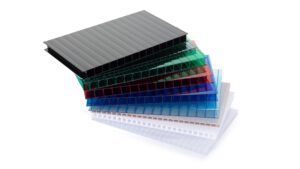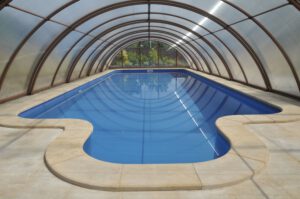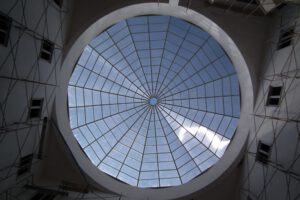 ALL TYPES ARE ALSO AVAILABLE AS:
⇒ SOLAR CONTROL: well-established high-quality extruded sheet range. Both give designers and specifiers increased versatility when choosing polycarbonate multiwall sheets for light transparency and solar control.
We offer: Solar Control Transparent, Solar Control White, Solar Control Green and Solar Control Grey.
⇒ ULTRA: extra high or low weight with same light transmission.
⇒ RPC (Recycled PC): produced with a greater amount of recycled material.
⇒ MULTICLEAR® HR: special range of multiwall sheets fulfilling Swiss hail test.
⇒ UV:one side UV protection as a standard, both sides UV protection upon request.
⇒ TAPES: transport tape, solid aluminium, solid fleece or perforated fleece tape can be applied.
APPLICATIONS:
MULTICLEAR® is suitable for various applications in industrial, public, and private buildings.
Applications include:
⇒ Building: roof lights, cladding, sidewalls, domes, conservatories, skylights, sheds, car ports, smoke vents, swimming pool covers, suspended ceilings, glasshouses, sunrooms, railway/metro stations, airports, stadium roofing and partitions, lighting (lamp optics and neon sign boxes).
⇒ Packaging: pallet shields, protective covers for fragile items.
⇒ Advertising: illuminated signs and advertising panels.
⇒ Agriculture: greenhouses, lorry/tractor ports and farm/barn buildings.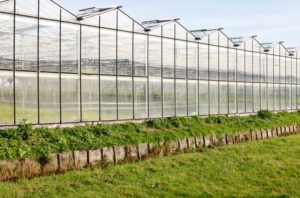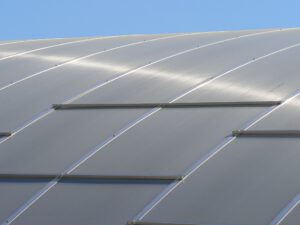 Please contact your local sales representative for more information.